This website was initiated by the PRO ORIENTE Steering Committee for Orthodox-Catholic Dialogue – a committee established by PRO ORIENTE in 2018 to reflect and coordinate the foundation's activities in the field of dialogue with the Orthodox Church. The committee comprises eight Orthodox and eight Catholic theologians from different European countries:
| | |
| --- | --- |
| Orthodox members | Catholic members |
| Kateřina Kočandrle BAUER, Prague | Hyacinthe DESTIVELLE OP, Rome |
| Pantelis KALAITZIDIS, Volos | Regina ELSNER, Berlin |
| Assaad Elias KATTAN, Muenster | Thomas Mark NÉMETH, Vienna |
| Vladimir KHULAP, Saint Petersburg | Johannes OELDEMANN, Paderborn |
| Ioan MOGA, Vienna | Rudolf PROKSCHI, Vienna |
| Katerina PEKRIDOU, Bruxelles | Catherine SHIRK LUCAS, Paris |
| Julija NAETT VIDOVIĆ, Paris | Myriam WIJLENS, Erfurt |
| Georgios VLANTIS, Munich | Milan ŽUST SJ, Rome |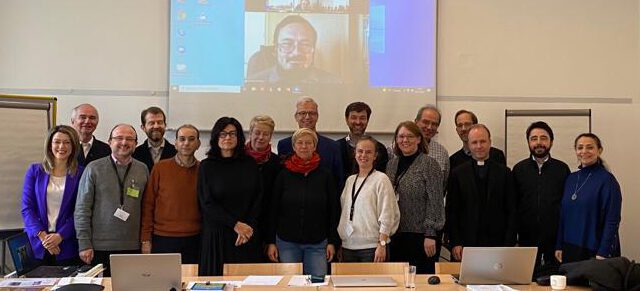 The PRO ORIENTE Steering Committee for Orthodox-Catholic Dialogue (POSCOCD) has developed various projects to strengthen and intensify Orthodox-Catholic dialogue, including this project, which aims at making the results of Orthodox-Catholic dialogue at various levels better known and at connecting different dialogue commissions and groups with each other.
The Committee mandated a sub-committee to develop this project, collect the relevant documents and prepare them for publication in different languages on this website. The members of the POSCOCD sub-committee responsible for this website are:
Hyacinthe DESTIVELLE
Vladimir KHULAP
Ioan MOGA
Johannes OELDEMANN
Katerina PEKRIDOU
We hope that this website can contribute to building a fruitful network of all those engaged in Orthodox-Catholic dialogue, in line with our motto "Connecting Dialogues".
We invite anyone who would like to contribute to this website to contact us at following e-mail address: admin@orthcath.net